Saturday, February 4, 2023
Class of 2005
Lake-Sumter State College assumed primary responsibility for coordinating this year's program. Jane Miller, vice president of student services at Lake-Sumter State College, provided overall program leadership with the assistance of Keli Colborne, executive staff assistant.
Dr. Beverly Robinson, associate vice president at College of Central Florida and Dr. Paul Szuch, vice president of educational services at Pasco-Hernando Community College provided program support at their respective institutions.
2004-2005 agenda
Opening session
Our opening session, hosted by Lake-Sumter State College, began with orientation and luncheon followed by a leadership workshop.
During orientation, a history of Dr. Thomasson and the program, as well as, insights from past participants was given. Participants expressed their feelings about the program, the different activities and the projects that their group completed.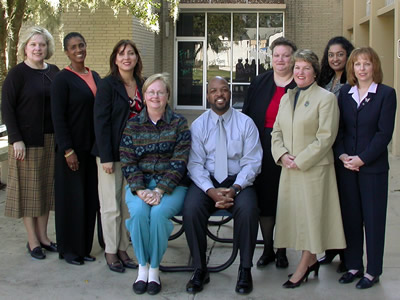 2005 Sylvia M. Thomasson Educational Leadership Program participants, left to right: Judy Deisler, Jillian Ramsammy, Arlene York, Kathy Dawson, Sean Armstrong, Mariane Fasano, Mary Ann Desantis, Sonia Rodriguez, Tabitha Richards

Dr. R.J. Johnson from Lake-Sumter State College, presented "Appreciative Inquiry, Focusing on the Best to Become Better" at the leadership workshop. Participants focused on their leadership skills and qualities and we left with a simple plan for improving our leadership in "the real world." Appreciative inquiry has been used for team building, diversity initiatives, visioning, and much more.

The day concluded with a participant meeting where participants discussed a group project to be presented at the conclusion of the year.

Leadership building workshop
In January, Dr. Beverly Robinson, associate vice president for community development, welcomed us to College of Central Florida. Dr. Henri Benlolo, our first speaker, discussed the best points for interviewing for a job and also what questions may be asked. Dr. Benlolo discussed construction of resumes that are effective. Dr. Benlolo summarized that resumes should not be a history, but what you can do for the employer. He suggested that the resume writer should summarize important points in bullet form with the areas of: hard skills, people skills, and skills you exhibit as a person. Dr. Benlolo asked the group, "What skills are most important to the critical skills of the job?" He said that in our administrative assessments we need to identify behaviors of employees. This leads to engaging people on individual strengths of personality to accomplish the job.

Ms. LerVerne Jacobs presented the group with a PowerPoint presentation on business etiquette. She discussed various office dos and don'ts. She explained that being a leader means treating all employees with respect and treat them like you would like to be treated.

Presidents' Forum
Dr. Katherine M. Johnson of Pasco-Hernando Community College, Dr. Chuck Mojock of Lake-Sumter State College and Dr. Charles Dassance of College of Central Florida participated in a panel discussion on leadership, describing their rise to leadership positions and their leadership styles. An extensive question and answer period followed, in which we gained valuable insight about achieving success. Our gracious presidents offered practical advice on how to position oneself for leadership positions. Here are some of the helpful tips they shared.
Have a goal and envision yourself in that position
Find a mentor in the area that you would like to work in
Be aware of what your values are and match those to the job you want
Be open to new or unexpected opportunities— be flexible
Volunteer on committees and take on more responsibilities
Prepare yourself for the job that you want and be ready to take it
Dr. Charles Dassance of CF talked about Robert Greenleaf's book on "Servant Leadership" and shared his thoughts about what it really means to serve as a leader.
Dr. Joe Wallace, director of marketing and public relations at CF and Lynn Rothman, director of marketing and public relations at PHCC shared insights and provided materials on media relations. The discussion included the following topics: how to successfully pitch a story, establishing relationships with reporters and editors, responding to and managing media inquiries, and how to handle negative media coverage.
Renowned ethics instructor, Dr. Carmine Bell, of Pasco-Hernando Community College, reminded us that leaders are often faced with difficult ethical dilemmas. Dr. Bell gave a thought provoking presentation that featured a 1999 study by the Illinois Community College system, the Institute for Global Ethics, and the Gallup Organization. The purpose of the study was to identify leadership traits that support ethics and ethical practices, and to encourage Illinois community colleges to examine issues associated with values, values exploration and ethical decision-making practices.
Futures Assembly
We visited the Community College Future's Assembly in late January 2005. This annual conference hosted by the hosted by the University of Florida's Community College Leadership Consortium provides networking opportunities within the community college arena, recognizes outstanding and innovative programs and practices (Bellwether Awards), and identifies issues of concern to community colleges.
Legislative day
In March, we met our mentor and inspiration, Dr. Beverly Robinson in Tallahassee. We met with legislative assistants rather than the representatives themselves since the legislature wouldn't be in session until the next day. (We did get to peek inside the house chamber, though.) The overall atmosphere in the
offices was businesslike yet lively— the various legislators and staff members we encountered seemed to be anticipating the start of the new legislative session.
We were fortunate to be invited into the offices of Rep. Larry Cretul, Vice Chair of the Colleges and Universities Committee, and Rep. David Mealor, Chair of the Colleges and Universities Committee, both of whom were cordial and willing to answer questions. Later we discussed HB 837, the pending "academic freedom" bill with Rep. Dennis Baxley's legislative assistant.
Last on our agenda was a visit to FACC headquarters for a meeting with Erin McCloskey of Palm Beach Community College, lead lobbyist for FACC. She explained the legislative process and the role community college lobbyists play in it. As college employees we are among some of the more educated citizens of Florida, and many of us think we have a fair understanding of the legislative process; many of us know some of representatives personally.
Class project
Our class project was a web site, which was never put into production.